Loading Game
World Rugby - Play Game
Rugby is not for weak people, without strength. It is a sport that requires a lot of strength and speed to score points and win the game. In this world championship, choose your favorite team to be the new rugby champion world.
Play Free Online Game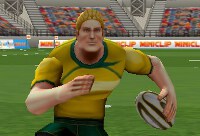 Other Games Related to World Rugby

This game crashed in major Internet browsers like Chrome, Firefox and Edge.
Play our WebGL 3D Games, work at 100% in your browser.

WebGL 3D Games
Please make stop AdBlock to continue visiting the best games site in the world. All advertising on the site is from Google, 100% safe and easy to identify.
Have you already paused AdBlock for this site?
Reload this page.