Loading Game
Paradise Pet Salon - Play Game
Animals also deserve to go to the beauty salon to take a bath and to cut the hair. Pets are waiting to meet their needs. Are you ready for a busy day at the beauty salon for animals?
Play Free Online Game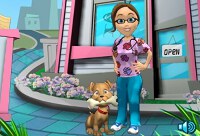 Other Games Related to Paradise Pet Salon

This game crashed in major Internet browsers like Chrome, Firefox and Edge.
Play our WebGL 3D Games, work at 100% in your browser.

WebGL 3D Games
Please make stop AdBlock to continue visiting the best games site in the world. All advertising on the site is from Google, 100% safe and easy to identify.
Have you already paused AdBlock for this site?
Reload this page.